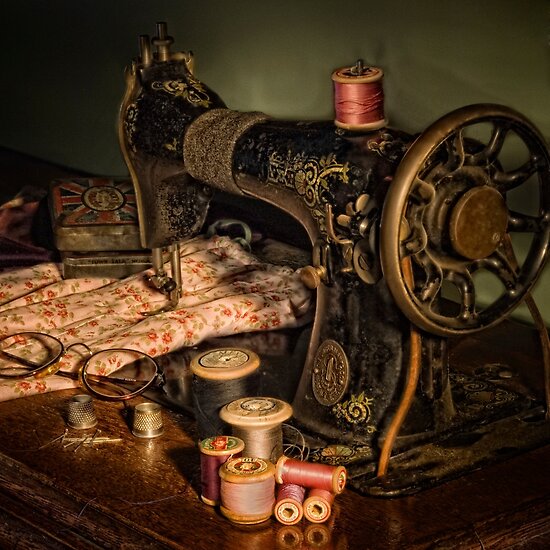 I am sure some of you are wondering why I haven't been doing much sewing lately, no posts of Abby wearing my latest creation, no rambling on and on about my obsessive sewing, etc. Well, the truth is I haven't even touched my machine in weeks. For the past few months grandma has been in and out of the hospital more times than I can count and the truth is at 94 there isn't much more they can do for her. We have had a couple of serious scares with her and the doctors are telling us it's just a matter of time. My mom has been camped out at her side for the past few weeks and doing her best to hold it together and to be honest I really don't know how she is doing it. The three of us girls have always had a very special bond and have been very close. If you've followed my blog for a while you know just how special my grandma is to me and what a tremendous inspiration she has been in both life and our common bond of sewing. Lately, I have been doing a lot of reminiscing about the "Good Ole Days" when mom and grandma would dress me up like a little doll and take me into the city and we would go to lunch and then spend hours looking through pattern books and at fabric. Of course as a little girl, I couldn't truly appreciate this but now, well, I don't think I even have to say how much sewing and designing mean to me.....
Tomorrow, I leave to drive up to NY to spend time with Grandma and even though I am scared to death and my heart is just breaking I am going to do my absolute best to hold it together, because I know this will probably be our last time together. Mom told me that she thinks Grandma is hanging on extra tight until I get there and we get to spend time together. So, I am going to pack up the car with some of my favorite dresses that I have made for Abby, samples of my paper patterns, and my iPad loaded with photos to show her so we can "talk shop" something which I know will bring a huge smile to her face. I am hoping seeing her smile will inspire me to come home and sew up a storm... I already have the name for my next design which I haven't even thought up yet but I am going to name it after my grandma....Edith.
So, please keep us in your thoughts....and say a prayer for Grandma....and hope that I will soon be able to get back to what I love without having to fight back the tears...
Dawn